Say Goodbye to Excess Abdominal Skin with Tummy Tuck
Excess skin and fat tissue in the abdominal area is a problem for all of us. This situation can disturb us physically as well as negatively affect our social life. If you are also suffering from this condition, you may be doing research on the internet before and after tummy tuck. This procedure is usually performed for people who have lost a significant amount of weight or who still feel that they have excess skin after pregnancy.
What to Know Before a Tummy Tuck (Abdominoplasty)? 
Abdominoplasty is the process of removing excess skin and/or fat tissue from the body. Depending on the amount of excess skin, a scar called mini or classic abdominoplasty may form around the navel. In some people, this scar is very faint. In people who have lost a lot of weight, it may sometimes be necessary to remove the skin in the center of the abdomen. This is something you will determine with your doctor before your tummy tuck procedure. After the risks and advantages of this surgery have been investigated, you can start preparing for the surgery.
Before a Tummy Tuck: Preparation 
You cannot smoke for 6 months up to 3 months before surgery and at least 3 months after surgery. If you do not quit smoking, doctors will not want to operate on you. Photos will be taken before and after the tummy tuck. You will be given a kind of elastic garment. This garment provides support during your healing process. If you are taking blood thinners, temporarily stop them for a certain period of time as advised by your doctor.
Before the surgery, the plastic surgeon will draw your body with lines showing how the surgery will proceed. This drawing will be photographed and later added to your file. In this way, it is possible to follow your before and after tummy tuck processes transparently. Your doctor will explain these procedures to you in detail during the preoperative evaluations.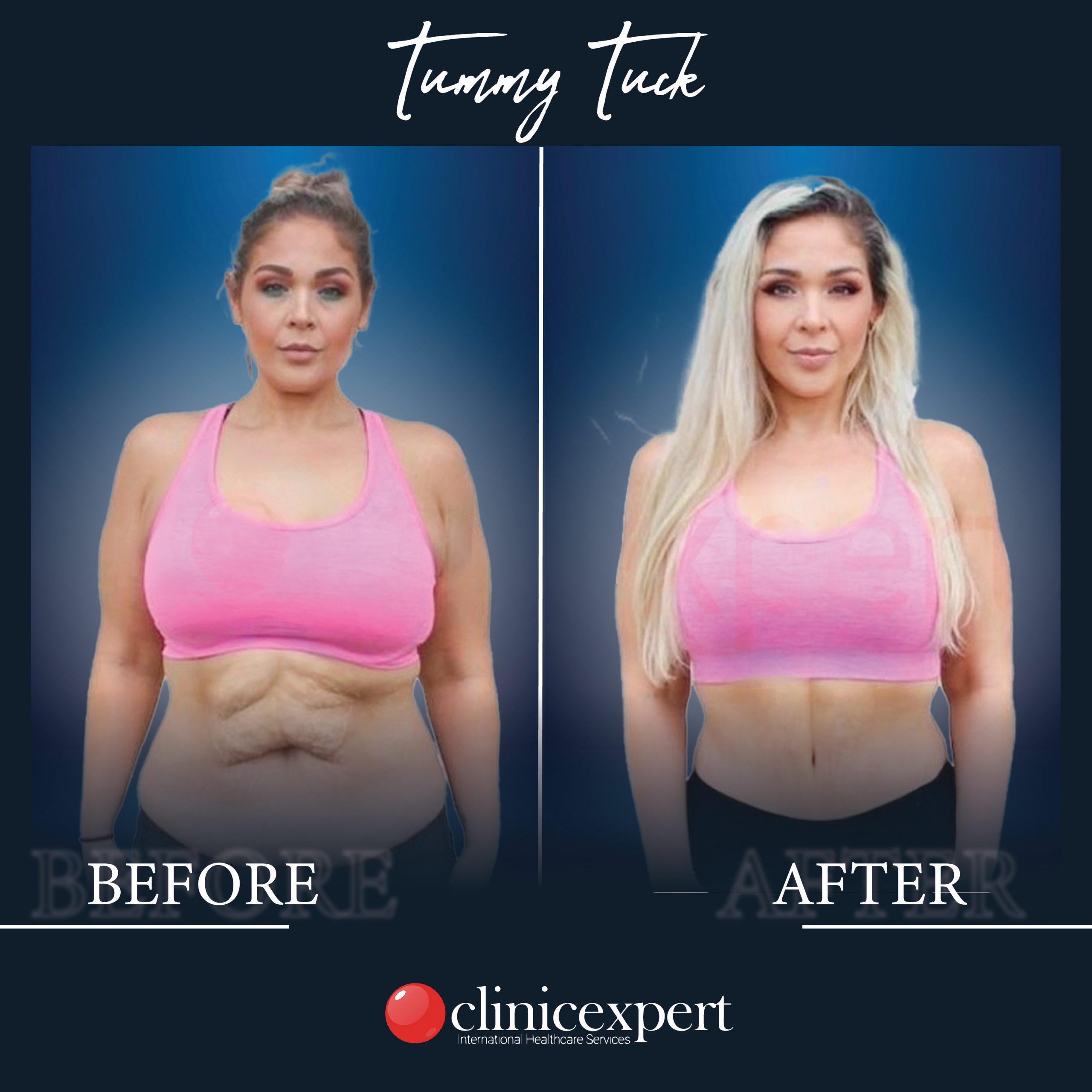 What to Expect during a Tummy Tuck Procedure? 
There are various operations to remove excess skin on the abdomen (and sides and buttocks), ranging from less invasive to more drastic. Depending on the extent of the tummy tuck, an operation can take 1.5 hours or up to 6.5 hours. Sometimes subcutaneous fat tissue can also be removed by liposuction during the operation.
The abdominal muscles begin to relax, including after several pregnancies. In this process, this area is tightened. When looking at the results before and after tummy tuck, the operations are successful. If only the lower abdomen is slightly sagging, it is sufficient to remove skin in the shape of an ellipse just above the pubic hair. Afterwards, the abdomen appears taut again and the only visible trace of the procedure remains under the underwear. The operation is performed under general anesthesia and you will be asked to stay in hospital for at least 1 night.
When Is a Tummy Tuck the Right Choice for You?
Abdominal skin can become loose due to aging, overweight (obesity)/overweight loss, pregnancy or abdominal surgery. Severe loosening can lead to excess skin and fat hanging over your belly as a fold of skin (fat skirt). Excess skin can also form on the sides and buttocks. A tummy tuck can be the solution to your body complaints before and after.
If your weight has been stable for at least a year and you do not smoke, you are suitable for a tummy tuck. However, if you are addicted to smoking and alcohol, you should quit immediately. Because these two habits make your surgery very risky. If you do not want to take risks during surgery, you should seek help.
How to Ensure a Successful Tummy Tuck?
Choosing the right hospital and experienced surgeon is crucial for a successful tummy tuck. Thoroughly researching and comparing tummy tuck before and after results can help you make an informed decision. Additionally, consider the surgeon's qualifications, patient reviews, and their ability to address your specific concerns. Discuss your goals and expectations during consultations to ensure a tailored approach. A successful tummy tuck begins with the right choices and a well-informed decision-making process.