What Is Hair Transplantation?
People who have lost their hair due to a variety of factors might benefit from hair transplant surgery. Hair transplantation can currently treat a huge number of individuals who have lost their hair due to environmental causes, diseases, or drug-related side effects. Hair transplantation is not an option if a patient has been bald since birth. As part of the procedure, surgeons use microsurgical techniques to transfer grafts from a hairy section of the head to an area that has started to go bald.
How to Do a Hair Transplant?
The hair transplantation process begins with the deciding of where to get the grafts from. The area chosen for this procedure is usually the nape. However, surgeons can take grafts from the arm or chest for people who do not have enough hair follicles on the nape. Depending on the condition of the person and the lack of hair, the procedure may take several hours. If the hair loss is severe, the treatment can split into two sessions.After the procedure is over, doctors always tell their patient to rest. After a short time, it is possible for these individuals to return to daily life. There has been an effective level of demand for hair transplant recently.
Why Is There Hair Loss?
Hair loss often appears due to a variety of factors, including stress, iron deficiency, and hormonal abnormalities. Although it is uncommon, long-term hair loss might indicate that something is amiss. Many different things can all contribute to hair loss and baldness but this doesn't mean there's no cure.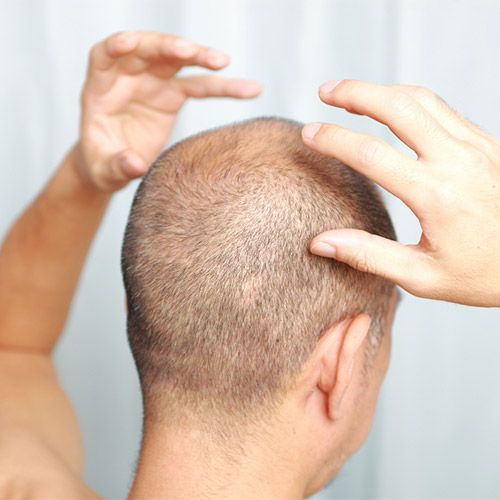 Which Methods are Used for Hair Transplantation?
It is possible to perform hair transplantation in a variety of methods. FUE and DHI are the two hair transplantation techniques. The Healthcare Industry, which is also developing in the field of aesthetic procedures, provides us with these various hair transplantation technologies. 
As a consequence of conversations between the doctor and the patient, the most appropriate approach for the patient is the most important thing to consider. Before deciding on a surgical treatment, the doctor and patient must weigh the benefits and drawbacks. You can make an appointment for a hair transplant operation using the technique of your choice.There is a variety of approaches and strategies used by hair transplant clinics.
The Most Recent Hair Transplantation Technique: FUE method
FUE hair transplantation is a type of technique that is frequently used today. It is one of the few different methods of hair transplantation. Unlike the DHI technique, surgeons make incisions with this method. Before deciding for hair transplantation, we recommend that you take a look at the methods and get a doctor's opinion. 
It will be more appropriate for you to opt to have the operation in accordance with the information provided by the physicians. For FUE hair transplantation, you can consult with a professional cosmetic doctor. The hair transplant specialist must also master the FUE hair transplant method!
Is FUE Hair Transplant Permanent?
After a hair transplant, the transplanted hair follicles keep their current qualities and keep developing for the rest of their lives. FUE hair transplants can last a lifetime with appropriate maintenance.
How Successful is FUE Hair Transplant?
FUE hair transplants have a 90 to 95 percent success rate. FUE hair transplantation, as opposed to DHI hair transplantation, includes opening the channels in the process. First and foremost, your surgeon will transfer the hair follicles extracted from the graft region to the region of hair transplantation. They carry out this part by creating micro-channels. 
Through small incisions in the skin, the specialist doctor will insert the roots. It is critical to select the healthiest and most powerful hair follicles. Incision scars are one of the downsides of the FUE method. Crusting and bleeding may develop as a result of the procedure.As a result, the return to social and work life may take a bit longer. However, this process provides an advantage in terms of time.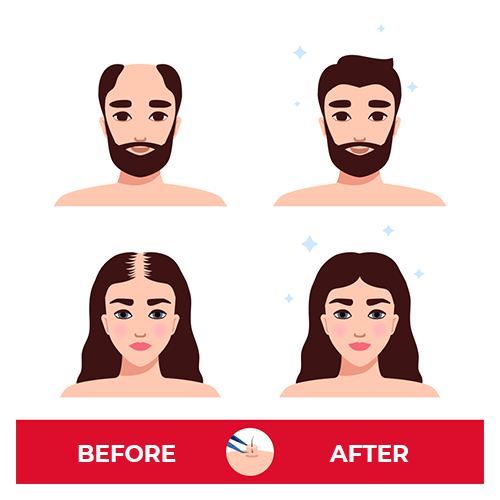 DHI Hair Transplantation (Without Shaving
)
It is possible to do all of the hair without shaving with the DHI technique. The DHI process uses direct hair transplantation, by not creating incisions like the FUE method. The process uses a specific implanter pen to place grafts. When it comes to things like the forehead line, hair density and pattern are entirely at the discretion of the physician, so you can talk to your doctor freely.
Since the process continues without incision, the wound is not visible. This means a rapid recovery and return to normalcy.There is usually no pain after implantation. Do not shower for the first 3 days after the procedure. Afterwards, you can wash your hair gently using the shampoos prescribed by your doctor.
Is DHI Hair Transplant Permanent?
Many people ask their doctors if a DHI hair transplant is permanent. The answer is yes, it is! In the long run, the DHI hair transplant procedure is more effective than other techniques. Natural-looking outcomes are easy to achieve using this approach. Some factors that affect costs include the quantity of hair follicles and the size of an application's balding region.
What Is The Difference Between FUE and DHI Hair Transplant?
The process of DHI hair transplantation differs from FUE hair transplantation. The distinction is that the incisions are not necessary for this procedure. As a result, it is a very attractive choice to many. It's also chosen because it's one of the most technologically advanced ways.
There are no wounds on the skin since there are no incisions. Crusting is painless and disappears quickly. As a result, people may return to their normal lives in no time. The individuals who preferred the DHI process leave the clinic satisfied. What is a graft? You can learn the answers to your questions in style through hair transplant centers!
Is DHI Better Than FUE?
It can be difficult to define a procedure as the best hair transplant method; however, the DHI method is generally the most favored approach. This approach, adopted by doctors, is more practical as well as more sophisticated. If you wish to pick a procedure based on physician preferences, you can go with DHI.
Although they differ from the other procedure, FUE, the more sophisticated DHI technique has drawbacks. You can have the operation performed after receiving the appropriate information from your doctor. Hair transplant clinics must adhere to several procedures.
Does DHI Heal Faster Than FUE?
DHI hair transplantation is a procedure with advantages and disadvantages. Since DHI does not require opening canals, which is one of its advantages, it has a quick healing process. Another is that since there are no incisions and stitches, there is no wound formation and the crusting phase passes quickly. The drawback is that even if there is no incision, there remains a chance of infection. 
As a result, doctors should perform the surgery in a sterile environment using fine tools. Another factor is the passage of time. It takes a long time to pick grafts without incisions. Because it is a new approach, you should consider your doctor's and clinic's preferences. It may be more expensive than other techniques since it needs more time and sophisticated instruments.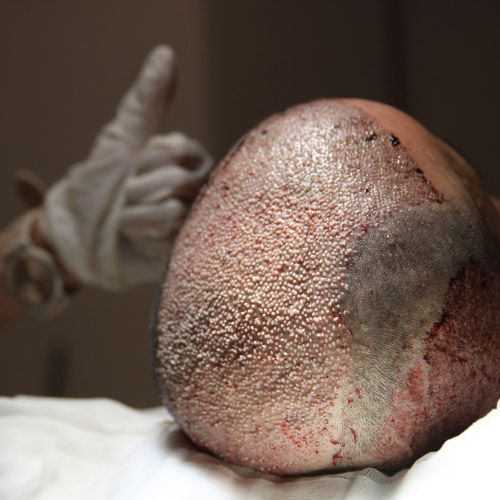 Hair Restoration For Women
Hair transplantation for women is an extremely delicate procedure. If some wants to have this operation, the procedure can begin once the patient analyzes the information about the transplantation process. Women undergo hair transplantation using different methods. Women can also have their foreheads reduced.
This procedure is for women who complain about having a large forehead or who do not have enough hair on the forehead due to genetic reasons. Some people may apply to this process to provide the face and forehead ratio. This process includes transplanting hair in addition to your hair on the forehead and increasing the hair plane. The specialist performs the forehead narrowing by pulling the hairline forward a few inches. It is necessary to take part in a sensitive research process, especially about the transplant region.
What is Female Hair Transplant?
Women's hair transplants are very similar to men's hair transplants. With female patients, it is feasible to create hair that does not require shaving, even if it has been requested by the female patient. The reason for women to not have transplants as much as men do is because female shedding is slower than male, so they might not notice it immediately.When it comes to women's hair transplants, the results are excellent. 
However, it is necessary to diagnose and treat any underlying illness.The hair transplant technique to be conducted is identical to the operation performed on males in terms of the technical aspects of the surgery.Women's front hairline differs from men's, and this should be considered.Make sure you're in the hands of professionals.
Can Women Get Hair Transplant?
It is possible for women to undergo hair transplantation.Hair transplantation is for everyone who wishes to have one. As a result of this, females can also undergo hair transplantation. However, it's important to note that the kind and reason of hair loss, not gender, is what determines the effectiveness of a hair transplant.
As long as women are healthy and suitable candidates, hair transplantation for women has a high likelihood of success. To be a good candidate, a woman must have enough healthy donor hair follicles capable of generating typical growth and thickness over time.
What Are the Risks and Side Effects of Female Hair Transplant?
Risks: After transplanting, the patient may suffer from acute discomfort or nerve damage. It's possible that the application area will bleed afterward. As a result of the bleeding from open wounds, there is the potential for a major infection issue. One of the more significant complications of the procedure is shock loss, which occurs in only a tiny percentage of patients.
Side Effects: An increase in redness and stiffness in the area where the gathered or transplanted hair is as well as tiny crusts forming and numbness are all transient adverse effects.
Female Hair Transplant- Recovery Timeline
First Day
In the immediate aftermath of surgery, the operation area will still be extremely sensitive to touch.
First Week
It's now possible to observe the new hairline thanks to the transplanted hair follicles. Now that the scalp is still sensitive, it requires more time to recover. Local swelling is common, although it generally subsides within a few days.
First Month
After a month or so, hair shock might happen. It is, however, a normal reaction. The graft location will regenerate new hairs over time.
Six Months
By the end of six months, the hairs will be well-grown and the volume and density will be increasing. The quality of your hair will increase, and you'll notice that your hair is growing steadily.
First Year
About a year following the hair transplant operation, the hair density reaches a near-optimal level. Hair growth is now more noticeable and you're experiencing a faster rate of growth as a result of the new growth pattern.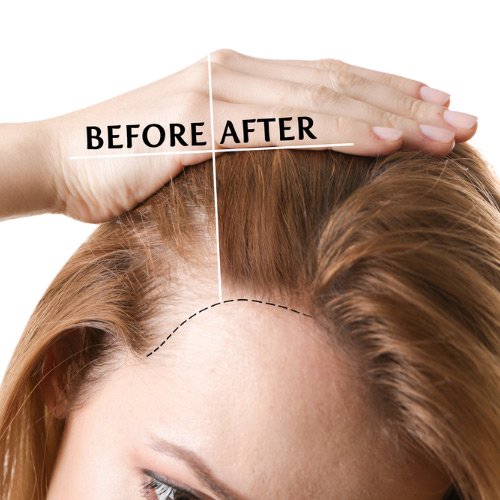 Difference Between Women and Men Hair Transplant
For both sexes, hair transplantation is pretty much the same procedure. What is different is, when it comes to transplanting hair follicles, men and women may have different options. Men's hair grafts are usually collected from the nape area. However, since women don't lose hair in patterns and instead lose hair from all the regions of the head, the nape area is generally not the ideal place for graft picking for them.
Hair Transplant Prices in Turkey
It's no secret that Turkey has become a popular destination for individuals seeking hair cosmetic surgery. When compared to other European nations, hair transplantation in Turkey is quite inexpensive and the results are excellent.One of the first questions that appear in the minds of people who will have a hair transplant is about the price. There are certain methods for hair transplantation; these can be FUT, DHI or FUE. The team that will work on during these procedures, the technological tools and processes all will have an effect on the fee.
Hair Transplant Surgery and Post-Process
Most hair transplant patients wonder about what will happen following the procedure. Transplanting the scalp's hair requires the assistance of an experienced medical professional. In addition, you should evaluate the procedure and follow all of your doctor's instructions.It might take anything from six to twelve months to recuperate from a transplant and see benefits. A few months later, though, the transplanted grafts begin to act like regular hair.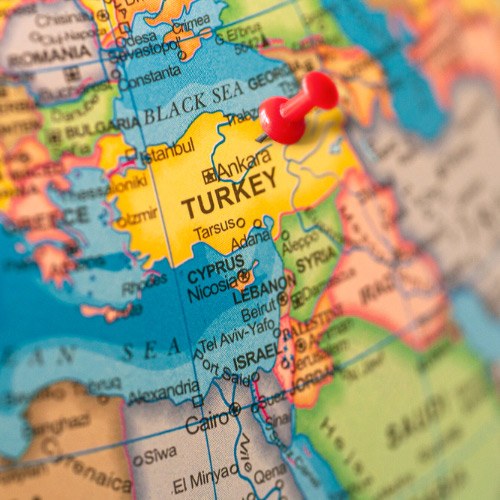 How Many Hours Does Hair Transplantation Take And Is It Comfortable?
This question, which is directly related to the planting method, is shaped according to your planting method. If FUE-style transplantation is chosen, it may take 6 to 12 hours. If the preferred hair transplantation is the FUT technique, it may take 3 to 4 hours. The DHI process can take up to 12 hours, and for this process, sometimes it is divided into 2 sessions. Of course, this does not include breaks. 
During the procedure, there are sometimes breaks that will allow you or the doctor to rest. This way the process can continue in a healthy way. These breaks add to the time. Another criterion that has influence on the duration is the size of the area to be transplanted and the number of grafts. The growing size of the region will increase the number of grafts and the procedure time accordingly. You should choose to wear comfortable clothes to avoid discomfort during the procedure.
Do You Feel Pain During The Hair Transplantation Operation?
Some people are unsure if they will experience discomfort throughout the procedure. However, since hair transplantation is a local anesthetic procedure, there is no pain or discomfort involved.

How Many Days Rest After Hair Transplant?
After the hair transplantation procedure, you should relax for at least 3 days and avoid heavy labor. For the first three days, it's important to keep the hair transplant region out of the sun, cold or heavy rain. Patients will have a period of time before they may resume their lives. This process takes roughly seven to ten days after surgery.
What Is The Procedure After Hair Transplant?
You should be sure to abstain from alcohol, smoking, and painkillers, among others. You should avoid heavy activity for at least a few weeks following the operation. Be sure to take your prescriptions as directed and take them on time.
What Should I Do After 10 Days of Hair Transplant?
1st Day
First-day hair washing is discouraged. For the first three days, it's best to stay out of the sun as much as possible.
Second Day
On the second day, you need to go to the hospital and have your operation area treated. Only after the third day is it suggested to wash your hair again. The results of hair transplantation will be compromised if the scalp is washed before the procedure.
3rd Day
The third day is crucial for washing your head, which you did not wash for the first three days, using low-chemical shampoos every day for 15 days.
One week later
A week or so after hair transplantation, the scars on your scalp will pass and the crusts will fall. As a result of the surgery, any incisions or scars will be fully healed.
First Two Weeks
In the first 15 days after the hair transplant, the region must be kept out of the sun and the rain.
Things to Consider Before Hair Transplantation
The pre-transplantation period covers the process before the hair transplantation. It is a suitable time period for necessary blood tests, hormone examinations and determination of the operation process. You must follow the practices and procedures recommended to you.
You should also inform your doctor if you have any medications or diseases you have before hair transplantation. You must wash your head before the procedure.
You should not consume alcohol and cigarettes 2 days before the operation.
If you use blood thinning medication, you may need to take a break under the supervision of your doctor. Please consult your doctor. You should take care to wear clean and comfortable clothes. You need to be comfortable as the process will take a long time.
Things to Consider After Hair Transplantation
Anything that makes you feel tired and sweaty should be avoided. You should also avoid stressful and uncomfortable situations.
After a hair transplant, you should refrain from sexual activity for a few nights to allow your body to heal.
Antibiotics will be required following hair transplantation, therefore it's best to abstain from alcoholic beverages. Lie on your back as much as possible for the first several days, and avoid touching the treated area with your hands or anything else.

Hair Mesotherapy
Using hair mesotherapy to halt shedding is permanent as long as the underlying reasons are addressed and intermediate treatments are continued. Hair mesotherapy has the added benefit of improving hair quality. To put it another way, it adds volume to hair and brightens thinning, dull, or worn-out hair.
How is Hair Mesotherapy Applied?
Mesotherapy application is based on the application of the necessary vitamins and minerals to the scalp with the help of injectors. These vitamins and minerals, which nourish and strengthen the hair grafts, are injected into the scalp with 2 or 4 millimeter thin injectors. After the implementation, the results begin to appear depending on the frequency of the session. As the cellular metabolism is stimulated, the results will be permanent and satisfying. It may take some time to see the result of the procedure.
What is Hair Mesotherapy?
Hair mesotherapy is a cosmetic procedure that helps strengthen and thicken the hair. Our hair can change from lush and beautiful to damaged and tired.  As a result, we may encounter many hair problems such as thinning and shedding. Mesotherapy can help us solve these problems. 
Hair Mesotherapy is the injection of necessary vitamins and minerals or amino acids into the scalp. As a result of this process, the hair gets thicker and stronger. Therefore, it is a method that can be preferred by many patients.
Is Mesotherapy Effective for Hair Growth?
When it comes to the scalp and hair, mesotherapy is highly effective. If you're looking for a quick fix for a scalp issue, it is a great option. Your doctors can use specialized medicines that include vitamins and nutrients required for healthy hair and hair development more effectively with the aid of micro injections.
Is Mesotherapy for Hair Safe?
Mesotherapy is a non-invasive and painless alternative to invasive and surgical treatments for baldness and thinning hair. The skin is perforated in a systematic manner to achieve this. Aside from that, it's also beneficial and doesn't do any damage to nearby regions.
How Long Does Mesotherapy Last?
The length of the treatment varies from person to person, but on average, you'll require it once a week. A typical course of therapy consists of 10 sessions, one each week. Because visible effects only appear after the fifth session, this therapy requires patience and composure. The effects of hair mesotherapy might show during the first four weeks of treatment. Both physicians, and patients, can see that the patient's hair has grown and increased in quality after ten treatment sessions.
Advantages and Disadvantages
The biggest advantage of this treatment is that there are no systemic adverse effects because the medication is administered specifically to the problem region, resulting in a more fast and successful therapy. However, you may require as many as ten sessions to achieve the desired results with mesotherapy.
What is the Price of Mesotherapy for Hair Loss Treatment?
Hair mesotherapy prices may change depending on the number of sessions and application centers. If you want full results for shedding, the price may increase because the number of sessions will be high. If the number of sessions decreases, the price will also decrease. Here you should be careful in choosing the treatment clinic. You should not have the procedure in a non-sterile center just because it offers affordable prices. You should pay attention to the sterility of the tools used during the procedure and the hygiene of the place.

PRP Hair Treatment
PRP treatment is the process of separating the blood taken from the person's body from the plasma with special processes and reinjecting it into the body. The treated blood becomes very rich called platelets. Since platelets are quite rich, they play the role of coagulation. It helps accelerate the healing of wounds. It is possible to heal wounds and rejuvenate the skin by using one's own blood. 
Therefore, PRP treatment is a solution against hair loss. It provides refreshment by renewing collagen and elastin in aging skin. 5-6 sessions with an average of 2 weeks intervals cause visible improvement in the body and decrease the hair loss problem. It can provide the factors that are important in strengthening the hair with enriched blood, and hair loss can be prevented. The most important advantage here is that the blood belongs to you and there is no risk of allergens.
What is Involved in a PRP Treatment?
This process may require long sessions. This treatment with effective results enriches the blood. The patient's own blood is taken and passed through a series of special procedures. The surgeons will inject the separated platelets into the balding area. It can also be effective in genetic spills. The patient's blood is centrifuged and separated into two, white and red blood. This treated blood is injected into the area of ​​spillage. The process takes about 30-40 minutes. There is no scar or mark left after the procedure and does not require rest.
Can PRP Regrow Hair?
No, it does not regrow hair in any way shape or form. Hair transplantation is the only way to restore hair growth in the balding region. When hair becomes weak due to dyeing, blow drying, or any other cause, the PRP treatment can help.
How Long Does it Take for PRP to Work on Hair?
This is the first question that people who have hair transplantation often wonder about. Hair transplantation involves a long process, so you shouldn't expect to see results immediately. After hair transplantation, your hair goes through certain stages. These stages are crusting, shedding, and growth. After going through these processes in order, it will be enough to wait a little longer for the result. 
The crusting process takes 15-20 days. The shedding process is a normal process and you should not be alarmed to see your hair falling off. This period can last from 1 to 2 month. Then the growth period, which will last 10 to 12 months, comes. When you complete this process, you will see the results of hair transplantation. You can go back to your life with satisfactory results.
Can PRP cure baldness?
There is also a question as to whether PRP therapy can stop baldness. Majority of the balding areas can recover using this technique. Correctly performed PRP method both prevents hair loss and adds vitality to the hair follicles.
Advantages and Disadvantages
Advantages
Stimulates the scalp's natural healing process 

Side effects are not long-lasting

Increased Collagen Production

Reduces Lines and Wrinkles

Improved Moisture Retention
Disadvantages
It is no effective everywhere

It can cause pain and nerve damage
How Much Does PRP for Hair Loss Cost?
PRP prices vary depending on how much your doctor will use PRP fluid and the number of the sessions they will want for you. The number and duration of sessions are determined according to why you have chosen the PRP procedure. Depending on the reason, how many sessions you need will be determined and the price will be offered at that rate. The place where you will have this procedure also has an effect on the price. If the number of sessions do increase, it is possible to see an increase in the price as well. Hair transplant hospital prices might also vary.

Why Should Hair Transplantation Be Done In Turkey?
Quality hair implants are frequently too expensive for many patients, especially in North American and European nations. In comparison to these nations, Turkey provides implants at a cheaper cost. The result is that a lot of people in these nations go straight to Turkey and pay a much lower price than they would in their home country, and they also do a lot of tourism and save a lot. Getting your hair back in Turkey will be the best choice of your life and not only because of the low cost!  In addition to its affordable prices, Turkey's health services are of the greatest quality.
Why Clinic Expert?
The clinics and hospitals we work with provide scientific treatments with proven advantages on hair and skin based on the individual's wants and needs.
The physicians are experts in their fields, constantly come up with innovative ideas, and take great pride in their work. We're always looking for new ways to make your life easier. You can count on us to provide the healthiest and most hygienic services available worldwide. Our objective is to supply you with scientific approaches, customized solutions, according to international standards, and cutting-edge technology. Contact us today.
FAQ
Can you go bald again after a hair transplant?
One of the most asked questions about hair transplantation is whether the transplanted hair will fall out. After a successful procedure, you may experience shock hair loss and wonder if you will go bald. However, these are the necessary and natural processes for the newly transplanted hair to adapt to the head. The hair starts to fall out because of the shock effect; this process takes a short time. Then, new healthy hair grows from the roots that are slowly planted in place of the shed hair. There is no need to worry about this process. Lost hair will grow back. These newly grown hairs are your permanent hair and will continue to be with you for a long time.
How long does hair last after transplant?
Your new hair grows and fills your thin and balding areas. New hair grows and reaches the same length and texture as your existing hair. Hair follicles transplanted into your scalp are permanent; they will accompany you for the rest of your life. However, like other hair follicles on your scalp, transplanted hair follicles have a growth limit. As time passes, they may stop forming as much hair as they used to. This is a result that usually occurs as we age. In most cases, a hair transplant continues for a long time and then stops growing like natural hair. You will always have some hair on your head for the rest of your life.
When can I touch my transplanted hair?
The healing process may vary depending on the method used after hair transplantation, but the criteria to be applied and avoided are almost the same. After the operation, cigarettes and alcohol should not be consumed. After the operation, redness and crusting are common side effects. You should remember it is a normal reaction, you should wait without touching the scalp. After the reddening process, the crusting process comes, which signals the beginning of the healing phase. Shock spills happen after some time passes. It does not mean that your hair is not holding or that the process was unsuccessful. Do not worry, the hair follicles are safe and healthy; after between 3 and 5 months, this phase will pass and permanent hair will begin to grow. Remember, hair transplantation is a process that manifests its success in 1-1.5 years.
Do hair transplants stop balding?
It is the goal of hair transplantation to encourage hair growth. In addition, they are useful in treating a wide range of hair baldness conditions. However, they may not be able to prevent future hair loss in other locations. You may require the following transplants for lasting outcomes.
What is the disadvantage of hair transplant?
In terms of hair transplantation, the most essential thing to know about the procedure is that it is completely safe when conducted by a qualified doctor.However, itching, redness, and sensitivity are short-term and temporary adverse effects of hair transplantation.
Do hair transplants last forever?
The answer is yes. As part of a hair transplant operations, surgeons developed special techniques in order for you to transfer your natural hair grafts to balding parts of your head. For this reason, the effects of a hair transplant last for a long time. After the healthy hair follicles are placed into the balding or thinned regions, hair transplants last a lifetime in most situations.
How can I hide my head after a hair transplant?
Wearing hats or other head ornaments are not good for your head for at least a week. If it is necessary for you to wear one, you can wear a loose hood or soft hat. Your doctor will tell you on the best sort of head covering to wear.
What is the success rate of hair transplant?
Hair transplantation is the most successful when performed in a reputable clinic with an experienced doctor and skilled health workers. The success rate also depends on the degree of hair loss, as well as the state of your donor region and the sort of operation you want. Candidates undergoing hair transplantation might expect a success rate of up to 95% from a specialist with adequate expertise and abilities. 90 to 95 percent of FUE hair transplants are successful. Using Sapphire DHI, hair transplants have a survival percentage of more than 95%
Does transplanted hair look natural?
Natural-looking transplanted hair is the result of careful preparation and execution. Factors such as hair growth pattern, front hairline, and volume of the transplanted follicles are critical to attaining more natural results in hair transplantation.
Can I swim in a pool or sea water after the transplant?
It is highly recommended to not go to pools or the sea after the hair transplant. As a result of the exposure to chlorinated or salty waters, your grafts will be at risk. Be aware that chlorine water damages hair follicles and scalp, causing dryness and irritation, as well as removing natural oils that preserve hair.
Can I colour my hair after the hair transplant?
Rather than damaging newly planted hair follicles by applying fresh dye too fast, it's best to wait a bit longer. The ideal thing to do following hair transplantation is to wait as long as your doctor prescribes it.
Can I choose my new front hairline?
The process of determining the forehead line is a very sensitive process. So, how is the forehead line determined in hair transplantation? For those who do not like the width of the forehead, they can go for a forehead narrowing. The people who want to capture an aesthetic image may request a better line for their face. In hair transplantation, the forehead line is your starting point so it must be perfect for your face. For a beautiful appearance, your doctor will draw the forehead line according to certain criteria. One of these criteria is to determine the line connected to the golden ratio. The golden ratio is a concept that helps you to catch the harmony of the pieces so that you look more beautiful. Another criterion is to determine the forehead line according to the ratio of 1 in 3 according to your face ratio. This is important for a proportional face. Mathematically, it will make your face look more beautiful. The last detail is your age. Determining a forehead line according to your age will preserve your naturalness. It is also essential to do a deep research, especially about the hair transplant specialist you'll choose!