What is an Ultrasonic Rhinoplasty?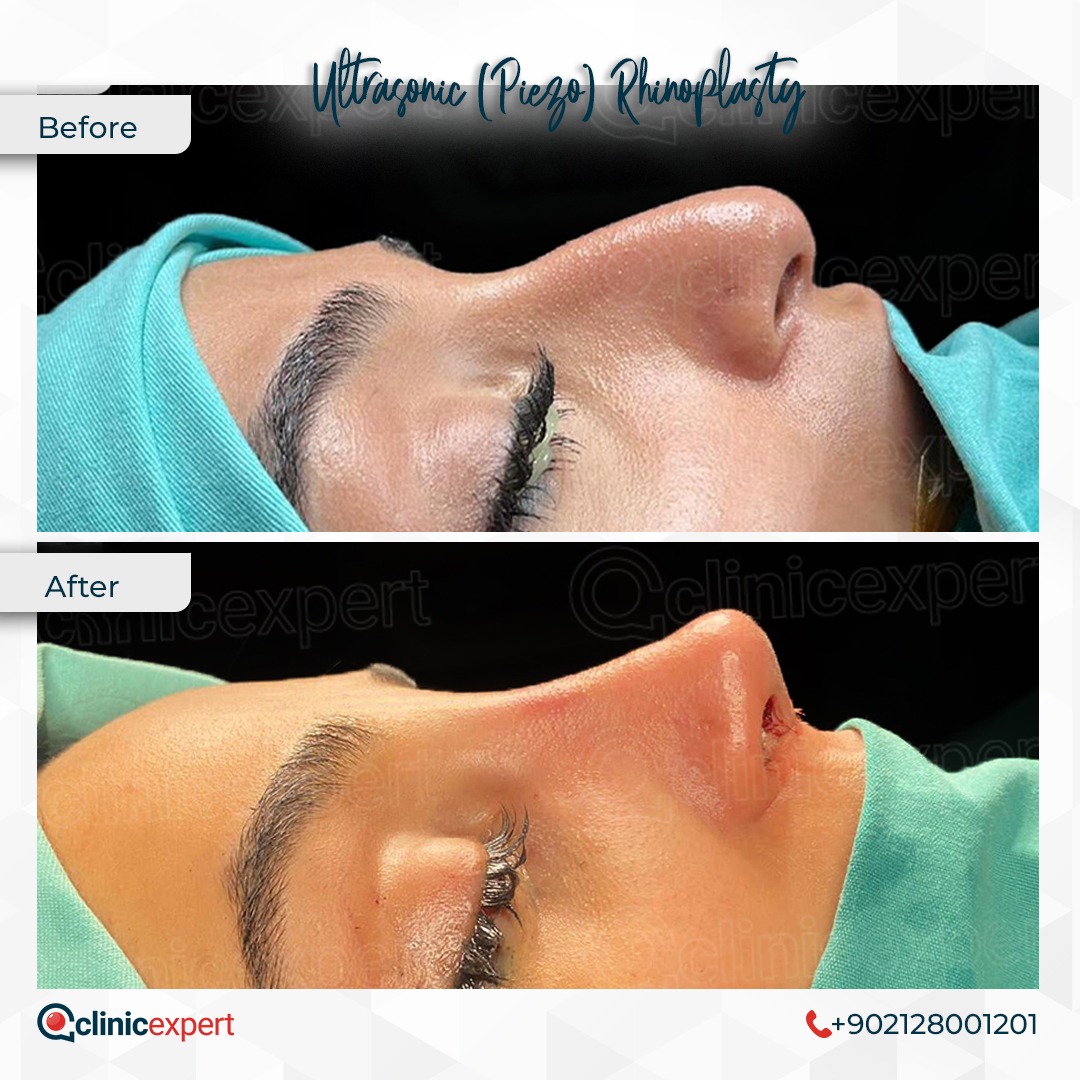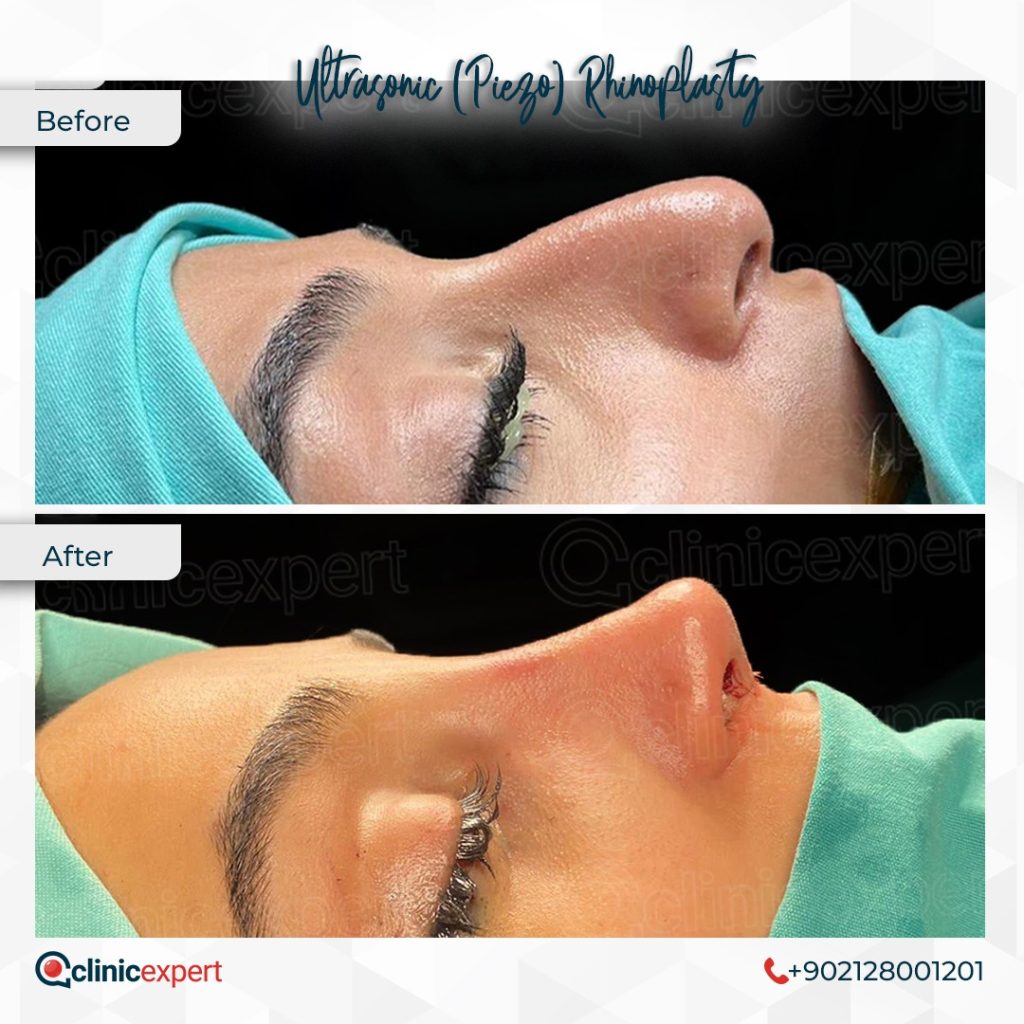 Ultrasonic rhinoplasty, also known as piezo rhinoplasty or diamond rhinoplasty, is the latest development in cosmetic nose surgery. Traditional rhinoplasty surgery uses rasps, hammers, and surgical chisels to lower the dorsal hump and narrow the nasal bones, whereas the ultrasonic rhinoplasty uses an ultrasonic instrument to reshape the bones. 
The specially engineered tool used in ultrasonic rhinoplasty works by using micro-vibrations created through piezoelectric crystals and transmitted to the tip of the instrument. Piezo Ultrasonic rhinoplasty is typically performed with open technique for better exposure of the nasal bones. 
The device works on bones and hard cartilage, without interfering with the surrounding soft tissues, including the skin, mucosa, and upper and lower cartilages. Therefore, ultrasonic rhinoplasty results in less bruising and swelling compared to the other rhinoplasty procedures. Also, ultrasonic rhinoplasty has less risk of bleeding, as this device doesn't damage the surrounding blood vessels as much as traditional nose jobs.
Today, many clinics and hospitals only perform traditional rhinoplasty, since piezo rhinoplasty is still a relatively new treatment, and yet ClinicExpert is one of the few hospitals which offer ultrasonic rhinoplasty in Turkey. If you consider having a serious surgical operation like rhinoplasty, you need to make sure you are working with the right team. You cannot entrust yourself to someone with less than 10 years of experience. As ClinicExpert, we use the best and most up-to-date techniques, devices and equipment for our patients, thanks to our over 12 years of experience. Send us a message via Whatsapp below and we'll get back to you within seconds.
Ultrasonic Rhinoplasty Overview 
| | |
| --- | --- |
| Procedure time | 1-3 hours |
| Anesthesia  | General anesthesia  |
| Side effects | Soreness, bruising, bleeding |
| Recovery  | 1-2 weeks |
Benefits of Ultrasonic Rhinoplasty? How Does It Differ? 
It reduces soft tissue trauma, and thereby post-operative bruising and swelling are quite rare.

Thanks to advanced shaping and filing techniques, a natural shape can be given to the nasal bone. 

A smoother transition is achieved from the bridge of the nose to the tip of the nose for a whole result.

Since

ultrasonic rhinoplasty

is able to prevent uncontrolled bone fractures during the procedure, the deformity and contour irregularities are also prevented.

Recovery is faster as the soft tissue surrounding blood vessels and cartilage are not damaged. Patients can return to their daily lives very quickly. Post-operative pain is typically less than traditional rhinoplasty. 

Ultrasonic rhinoplasty

surgery increases patient satisfaction.

The use of the technique reduces complication rates after the procedure and the need for revision surgery.
As a result, piezo rhinoplasty is very advantageous compared to the traditional method. In addition to providing convenience to surgeons at the point of providing the desired appearance, it increases patient comfort.
ClinicExpert's surgeons are some of the first surgeons to use the device in Turkey. Our surgeons have performed more than 10000 nose surgeries by fully combining their own developed rhinoplasty technique with a piezo ultrasonic bone shaping device. For information and appointments, you can call or message us via WhatsApp.
Candidates for Ultrasonic Rhinoplasty 
Anyone who is a good candidate for a nose job can also be considered a candidate for an ultrasonic rhinoplasty. The best candidates are those that are in good physical and mental health with no chronic medical conditions and have nasal bumps or humps on the bridge of the nose. Ultrasonic rhinoplasty is not recommended for those under the age of 18. 
If your surgeon decides that you are a suitable candidate for piezo rhinoplasty you need to follow some instructions. If you are a smoker you will be asked to stop smoking at least 2 weeks prior to the procedure. Smoking can negatively affect the healing process by slowing down wound healing.
Want to find out whether ultrasonic rhinoplasty is right for you? Reach us now via email, phone, WhatsApp and our website to get free consultation from ClinicExpert.  We are working hard to offer you the best treatment and price options and make you leave our hospital with happy smiles. You can get a discount opportunity by contacting our consultants right now. All of our contact information is below. 
Recovery after Ultrasonic Rhinoplasty  
The average recovery time for ultrasonic rhinoplasty is two to three weeks, but if you follow all our surgeons' instructions, this can be shortened to 1 week with us. You can expect less swelling, bruising, and pain compared to traditional nose jobs. Our team will continue to be there for you during your recovery. You will be given a contact number, so you can contact your surgeon and nurse if any complications occur in the first 24 hours. The cast and splint will be removed after the first week. Although the bruising and swelling will subside gradually and you will be able to return to your social and professional life within two weeks, your nose will continue to heal over about 12 to 18 months. 
If you want to recover as quickly as possible after your surgery, here we have some advices for you during the healing process: 
Get all the rest you need to – you should take a week off work after surgery. You are likely to experience mild discomfort for the first few days, it's best if you spend this time at home

Sleep with your head elevated

Stay hydrated – drink at least 2 liters of water per day. It would surprise you if you know how much it can help to reduce any post-operative swelling 

Don't miss your follow up appointments

Take pain relief medication you're prescribed at the clinic

Use ice packs and cold compresses to reduce any swelling

Keep the inside of your nose moist and clean with saline spray
As the ClinicExpert team, it is important for us that our patients get through the recovery in a much shorter time and with zero stress. We are aware of how precious the time of our patients is, especially the ones coming from abroad. We make separate plans for each patient and make sure that we use the time they spend here in the most productive way. If you have limited time and fears about having a rhinoplasty in a foreign country, contact us right now and we'll explain all the process to you. 
Risks of Ultrasonic Rhinoplasty
As with any surgical procedure, temporary side effects such as swelling, bruising, and pain are expected after ultrasonic rhinoplasty. Visible scarring on the base of the nose between the nostrils common with open techniques. Numbness, nerve damage and blood vessel damage, and nosebleeds may also occur but are more rare. In short, piezo rhinoplasty technique is safe and doesn't cause any vital risks. 
Our patients who choose us do not have to worry about side effects, because as ClinicExpert, we always look out for the benefit of our patients and make sure to minimize these side effects with the technique and equipment we use.
Ultrasonic Rhinoplasty Cost
| | | |
| --- | --- | --- |
| Turkey | UK | US  |
| 2000-3000 € | 7500-10000€ | 5000-9000€ |
Ultrasonic nose job costs between 5000-7500 € in the UK and Europe, while you can have the same procedure at 2000-3000 € in Turkey. With that being said, the cost of the procedure may vary depending on a number of factors such as the clinic, doctor, city, and region you choose. 
If you choose the right surgeon and hospital, the result of ultrasonic nose job is permanent and the possibility of needing revision surgery afterwards is very low. If you choose us, you don't have to worry about any of those things. Ultrasonic nose job has become a standard care in our practice since our patients feel more comfortable throughout the whole process and we achieve much more stable results with this method. Please do not hesitate to get in touch if you have more questions. We are happy to answer any queries either by email, telephone or WhatsApp. Don't forget that you can get a discount if you contact us right away. 
All-Inclusive Packages 
Our all-inclusive ultrasonic rhinoplasty packages are designed to provide your every single need during your staying in Istanbul, and even before.  A ClinicExpert medical consultant will help you pick the best surgery package, and then all you have to do is to book your flight.  
All-inclusive packages include: 
VIP Transfer

Translation services

Pre-op consultation

Hospital staying

Operation

Hotel

Post-Op Care and Cast Removal

Medications
FAQ
How long does it take to heal from ultrasonic rhinoplasty?
Ultrasonic rhinoplasty patients most often need only one week off work.
Can ultrasonic rhinoplasty be closed?
No, it simply cannot. The device can only fit in and work if the nose is completely exposed.
Is ultrasonic rhinoplasty safer?
Yes, ultrasonic rhinoplasty offers a safer and less invasive approach as it doesn't break the bones.
How long does swelling last after ultrasonic rhinoplasty?
Swelling will decrease within 14 days after the surgery and will completely subside after 3 months.